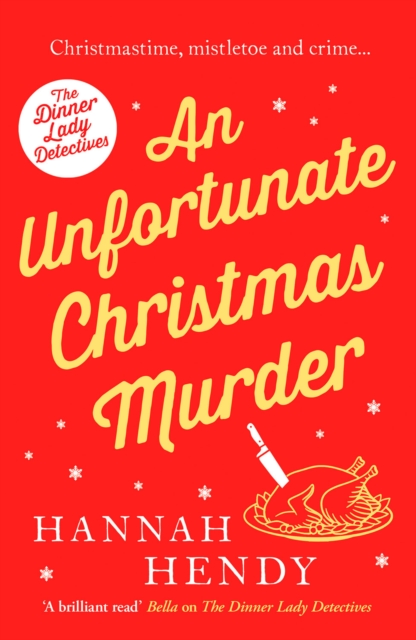 An Unfortunate Christmas Murder
by Hannah Hendy
Gardners Rating -
$15.99 USD
Softback 320
ISBN: 9781800326514-UK
Published: 18 August 2022
Classifications:
Christmas,
Crime & mystery,
Humour
Description:
From the author of The Dinner Lady Detectives
Tis the season for gold, frankincense and murder...It's winter in the small town of Dewstow, and Margery is preparing for her first Christmas as Summerview school's kitchen manager. She's supported by her wife, Clementine, and is trying to stay focused on the task at hand. The pair are determined to stay out of the way of the Christmas concert planning that has gripped the rest of the staff.

However, they are caught in the crossfire when the stage lights collapse at the first practice, killing Mrs Large, the music teacher. Mrs Smith, the Head of Drama, is the prime suspect and is desperate for the Dinner Lady Detectives to clear her name. Mrs Smith is convinced that it's sabotage by her rival, Mrs Blossom, the drama teacher at Ittonvale Secondary, but there's evidence that points to her own misdeeds.

Can Margery and Clementine trust their friend? And when things start to heat up in the kitchen, will they make it out in time?
A charming and festive British village mystery, perfect for fans of Robert Thorogood and Fiona Leitch.
Praise for The Dinner Lady Detectives
'This cosy crime novel has some hilarious moments and is perfect to curl up with' Heat
'A brilliant read! Bella'A brilliant whodunnit!' Closer
'The plot is great, the character cast is spot on, and the dialogue and humor is so quick, smart, and addictive. Margery and Clem play off one another brilliantly.
Image: