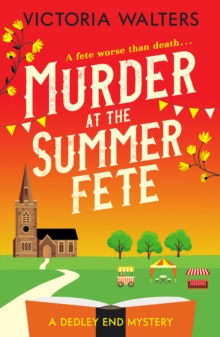 Murder at the Summer Fete by Victoria Walters
$16.99
Softback 352
ISBN: 9781800328501-UK
Published: 17 March 2022
Classifications:
Crime & mystery,
This is book 2 in the series, book 1 is Murder at the House on the Hill (click here to order book 1)
Description:
'Fabulous cosy murder/mystery with an unforgettable crime-fighting trio. Thoroughly enjoyable and highly recommended.' Angela Marsons, author of Stolen Ones
A fete worse than death...
After finding the killer of Lucy Roth six months ago, life has settled back to normal for bookshop owner, Nancy Hunter, and her grandmother, Jane.
The annual Dedley End village fete is just around the corner, and Nancy is delighted when bestselling author, Thomas Green, agrees to launch his first new novel in ten years there. But then a series of sinister events lead Nancy to realise someone is trying to sabotage their fete, so she, along with Jane and their journalist friend Jonathan, must turn detective to discover who isn't at all thrilled about the return of Thomas Green. When a body is discovered at the summer fete, the death scene mirroring that in Thomas' latest bestseller, they realise that there's another killer in Dedley End, but can they outsmart someone who appears to have pulled off the perfect crime?The clues are right under Nancy and Jane's noses, if only they can find them.

Because the answers to life's questions can always be found in a book...!A twisty, unputdownable cozy mystery that fans of Richard Osman, S.J. Bennett and The Marlow Murder Club will love. Readers can't get enough of Murder at the Summer Fete:'Cleverly crafted cosy crime at its absolute best!' Heidi Swain, author of A Taste of Home'A well crafted cosy mystery with warm characters and an excellent twist.

I can't wait to visit Dedley End again!' Hannah Hendy, author of The Dinner Lady Detectives'A team of likeable amateur detectives, a delightful bookshop setting and a cast of intriguing suspects. Tremendous fun.' Clare Chase, author of Mystery at the Church'A perfect read!...Will entice even the most seasoned mystery reader. If you're a fan of Agatha Christie and M.C.

Beaton, you can't miss this series.' Reader Review 'What a fun and cozy read!...A fantastic page-turner that made my winter night far warmer.' Reader Review'This. Is. Brilliant.

Could not put it down. I really hope there's more Dedley End adventures!' Reader Review'Absolutely loved this book!...The characters were great and the story flowed along nicely. I read the book in a day, I couldn't put it down!' Reader Review'Just as intricate, twisty, and fun as the first.

It kept me guessing and I just love the small village settings.' Reader Review'It was very engrossing and I read it within one day... I love this book...every new mystery by Victoria Walters is an auto-read for me' Reader Review'The second entry in this cozy series is even better than the first...and the first was great! British cozies always have a special place in my reading list and heart and this one is right up there at the top.' Reader Review
Image: