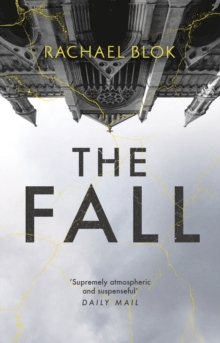 The Fall by Rachael Blok
$24.99
Hardback
ISBN: 9781838931742-UK
Published: 14 Apr 2022
Classifications:
Crime & mystery,
Thriller / suspense
Description:
The sins of the past echo in the present in the new literary thriller from crime-critic favourite, Rachael Blok. The bigger the sin, the further the fall... With Easter approaching, the verger of St Albans Cathedral was supposed to be readying the church.

Instead he discovers a man lying dead, fallen from the famous 150-foot-high tower. Did he jump, or was he pushed?For DCI Maarten Jansen, it's a simple case of suspected suicide. Until a stranger, Willow, who witnessed the jump, prompts a deeper investigation into a long-buried past, involving a psychiatric hospital, a pregnant woman, and fifty years of silence.

As Willow's own family history entwines with the case, Jansen starts to wonder how everything is connected. The Fall is a haunting literary thriller about loss, trauma, silence, and how our past shapes who we are.
Praise for The Fall:
'Twisty, suspenseful and deeply atmospheric' Harriet Tyce
'From the atmospheric and chilling prologue, The Fall held me tight in its thrall until the spine-tingling conclusion' Sam Holland
'Lyrical, assured and simmering with suspense' Victoria Selman
'The Fall is a rare beast...Dark, atmospheric and truly original' Kate Simants
'A wonderfully woven thriller, that oozes class from every page' Robert Scragg 'Uncoils like the snapping of a whip, lashing the past into the present with the revealing of dark family secrets' Dominic Nolan
'Held me spellbound right from the arresting opening through to the hugely satisfying ending, which I didn't see coming!' Polly Phillips
'Captivating storytelling and a real page turner - kept me up reading into the small hours!' Fliss Chester
'Emotionally charged, atmospheric' Eleanor Ray 'Unwinds slowly and deliberately to a heart-pounding conclusion' James Delargy
'Rachael Blok's crime fiction is as cool and restrained as its Dutch detective' Jo Furniss
Image: