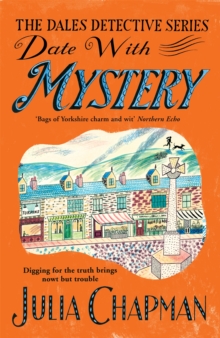 The Dales Detective Series: Date with Mystery
by Julia Champman
GARDNERS RATING

$16.99 USD
Softback 464
ISBN: 9781035002405-UK
Published: 10 November 2022
Classification:
Yorkshire, Crime & mystery
Description:
The close-knit community of a Yorkshire village is rocked when local secrets are revealed in Date with Mystery, in Julia Chapman's Dales Detective series. Perfect for fans of Richard Osman's The Thursday Murder Club and M. C. Beaton.
The Dales Detective Agency's latest assignment appears to be an open and shut case. Hired by a local solicitor to find a death certificate for a young woman who died over twenty years ago, Samson O'Brien is about to find out that things in Bruncliffe are rarely that straightforward.

Particularly when the solicitor insists that Delilah Metcalfe, with her wealth of local knowledge, works alongside Samson on this sensitive investigation. Delilah is eager to help, needing to take her mind off the impending custody case for her precious dog, Tolpuddle, and problems with her dating agency. As Samson and Delilah begin their inquiries they soon become embroiled in a mystery that has lain at the heart of the town for decades.

But in uncovering the truth have they exposed secrets that some would prefer remained buried?
'Bags of Yorkshire charm and wit' - The Northern Echo
Image: