Jackhammer Sam (Hardcover)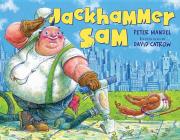 Description
---
Atta-RATTA-batta-blam!
Jackhammer Sam isn't just any old construction worker—he's the sidewalk blasting man. He stops traffic, splits the sidewalk, and digs right down to the subway, all the while singing his song: Atta-RATTA-binga-bong. Atta-RATTA-pinga-pong.
Lively illustrations by David Catrow portray a larger-than-life construction worker (and the bystanders who become caught up in his destruction) in hilarious detail as he choppa-chops his way through the city streets, outer space, and beyond in this fun and frenetic tribute to road workers of all kinds.
About the Author
---
Peter Mandel grew up in Manhattan, where he watched neighborhood skyscrapers going up and checked out every jackhammer on the block. He now writes about jackhammers and a host of other things for children. He lives in Providence, Rhode Island.
David Catrow has illustrated numerous books for children, among them Who Said That? by Robert Burleigh. David modeled the little boy in the That's Good! That's Bad! books after his son, D.J., when D.J. was five years old. Mr. Catrow lives in Springfield, Ohio, with his family.
Praise For…
---
"Bouncy rhyming text, kinetic and colorful art, and a lively construction worker make for a peppy read with a tall-tale flair." —Booklist
"With its ceaseless rhythm, the story begs to be read aloud, making this a useful book for community helpers, city, and noise themes." —School Library Journal
"Construction equipment is always a popular topic for the preschool set, so a book about a jackhammer is sure to be a hit with this crowd." —Horn Book
"An endearing ode to an oft–grumbled-about profession." —Kirkus Reviews