A Prairie Home Companion 25th Anniversary Collection (CD-Audio)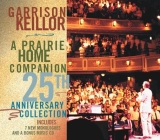 Description
---
This anniversary release features highlights from 25 years on the air, including favorite monologues like "Truckstop," "Gospel Birds" and "Pontoon Boat," plus brand-new stories never before available on audio. Also includes a special bonus collection of 25 toe-tapping tunes with down-home music from long-time show regulars, including Butch Thompson, the Powdermilk Biscuit Band, Greg Brown, the Hopeful Gospel Quartet, Robin and Linda Williams, and many more.
Contents:
Truckstop; The Way You Look Tonight; The Trip to Norway; Cowpies; Kristina's Double Date; Won't You be My Ginger?; Gospel Birds; The Living Flag; Green Summertime; A Summer Night; Berena: A Concert Waltz; Nearer My God to Thee; Pontoon Boat; How Long, How Long Blues; Hog Slaughter; Giant Decoys; The Secret Lutherans; Deep Creek; A Rich Full Life; Guys On Ice; Clarence Cleans His Roof; Confessional; Our Team; Turn Your Radio On; Cripple Creek; Blue Train; Oh Sister, Ain't That Hot?; Chapel of Love; Oh Baby; Minneapolis Blues; Back in the City; Mandy Make Up Your Mind; Air Mail Special; Little Red Hen; Walk Over God's Heaven; That's All Right Mama; The Stars & Stripes Forever March; Hula Lou; Jingle Medley; Nashville Pickin'; Cold, Cold Heart; Down the Line; Just Rockin'; Goodnight Baby; Nobody Knows When Your Down & Out; Road to Kingdom Come; Stride by Stride; Let's Have A Party
About the Author
---
Garrison Keillor is America's favorite storyteller. For more than 35 years, as the host of A Prairie Home Companion, he has captivated millions of listeners with his weekly News from Lake Wobegon monologues. A Prairie Home Companion is heard on hundreds of public radio stations, as well as America One, the Armed Forces Networks, Sirius Satellite Radio, and via a live audio webcast. 
 
Keillor is also the author of several books and a frequent contributor to national publications including Time, The New Yorker, and National Geographic, in addition to writing his own syndicated column. He has been awarded a National Humanities Medal from the National Endowment of the Humanities. When not touring, he resides in St. Paul, Minnesota.