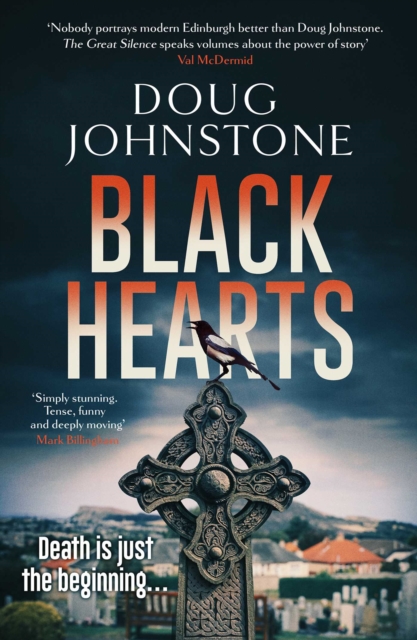 Black Hearts
by Doug Johnstone
$16.99
Gardners Rating

Paperback / softback300 pages
ISBN: 9781914585296-UK
Published: 29 September 2022
Classifications:
Modern & contemporary fiction (post c 1945),
Crime & mystery,
Classic crime,
Thriller / suspense,
Romance
Description:
An engrossing and beautifully written tale that bears all the Doug Johnstone hallmarks in its warmth and darkly comic undertones' Herald Scotland
A faked death, an obsessive stalker, an old man claiming he's being abused by the ghost of his late wife, and a devastating spectre from the past. The Skelfs are back in another explosive thriller, and this time things are more than personal...
Death is just the beginning... The Skelf women live in the shadow of death every day, running the family funeral directors and private investigator business in Edinburgh. But now their own grief interwines with that of their clients, as they are left reeling by shocking past events.

A fist-fight by an open grave leads Dorothy to investigate the possibility of a faked death, while a young woman's obsession with Hannah threatens her relationship with Indy and puts them both in mortal danger. An elderly man claims he's being abused by the ghost of his late wife, while ghosts of another kind come back to haunt Jenny from the grave ... pushing her to breaking point.

As the Skelfs struggle with increasingly unnerving cases and chilling danger lurks close to home, it becomes clear that grief, in all its forms, can be deadly...
_________________________________________
Praise for The Skelfs series
***Shortlisted for the McIlvanney Prize for Best Scottish Crime Book of the Year
******Longlisted for Theakston's Old Peculier Crime Novel of the Year
'Gripping and blackly humorous' Observer
'A tense ride strong, believable characters' Kerry Hudson, Big Issue
'The power of this book, though, lies in the warm personalities and dark humour of the Skelfs, and by the end readers will be just as interested in their relationships with each other as the mysteries they are trying to solve' Scotsman
'Remarkable' Sunday Times
'Keeps you hungry from page to page. A crime reader can't ask anything more' The Sun
Image: